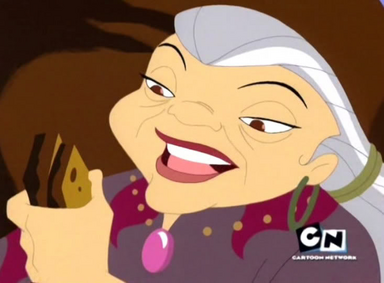 Jasmine Lee, or "Ah-Mah" (Chinese: 阿嬤; pinyin: Ā-mā; literally "grandma", voiced by Amy Hill) as Juniper calls her, is Juniper's grandmother, and the previous Te Xuan Ze. Many in the magical world consider her to be the greatest Te Xuan Ze ever. Calm and deliberate in most respects but crude and tough when she needs to be, the 69-year-old gives June advice on dealing with the magical community and their expectations of her, and assists her when she is in serious trouble. As of the "Monster Con" episode, Ah-Mah was shown to still possess a significant amount of magically-enhanced speed and strength, though her stamina and durability are severely diminished (in comparison to her granddaughter who has superhuman strength) to the point of being unable to stand unassisted after two to three minutes of combat (this is because of her old age). This supports her assertion in the first episode - that it was no longer her place to act as Te Xuan Ze - and is pragmatic, in the sense that it prevents June from shirking her responsibilities. In "Little Big Mah", she claims that she knows about 26 different styles of hand-to-hand combat, and that she hasn't been to China for 40 years (as Roxanne: "I haven't been to China in 40 years! Uh, I mean weeks. For weeks."). When she was young, she dyed the white streak in her hair purple.
Ad blocker interference detected!
Wikia is a free-to-use site that makes money from advertising. We have a modified experience for viewers using ad blockers

Wikia is not accessible if you've made further modifications. Remove the custom ad blocker rule(s) and the page will load as expected.